Contemporary Calligraphy in Murfreesboro, TN
**NEW** I'm so happy to announce I'll be teaching my new Contemporary Calligraphy evening class again in October hosted by The Write Impression in downtown Murfreesboro, TN! It's going to be such a fun evening. I can't wait! See the details below…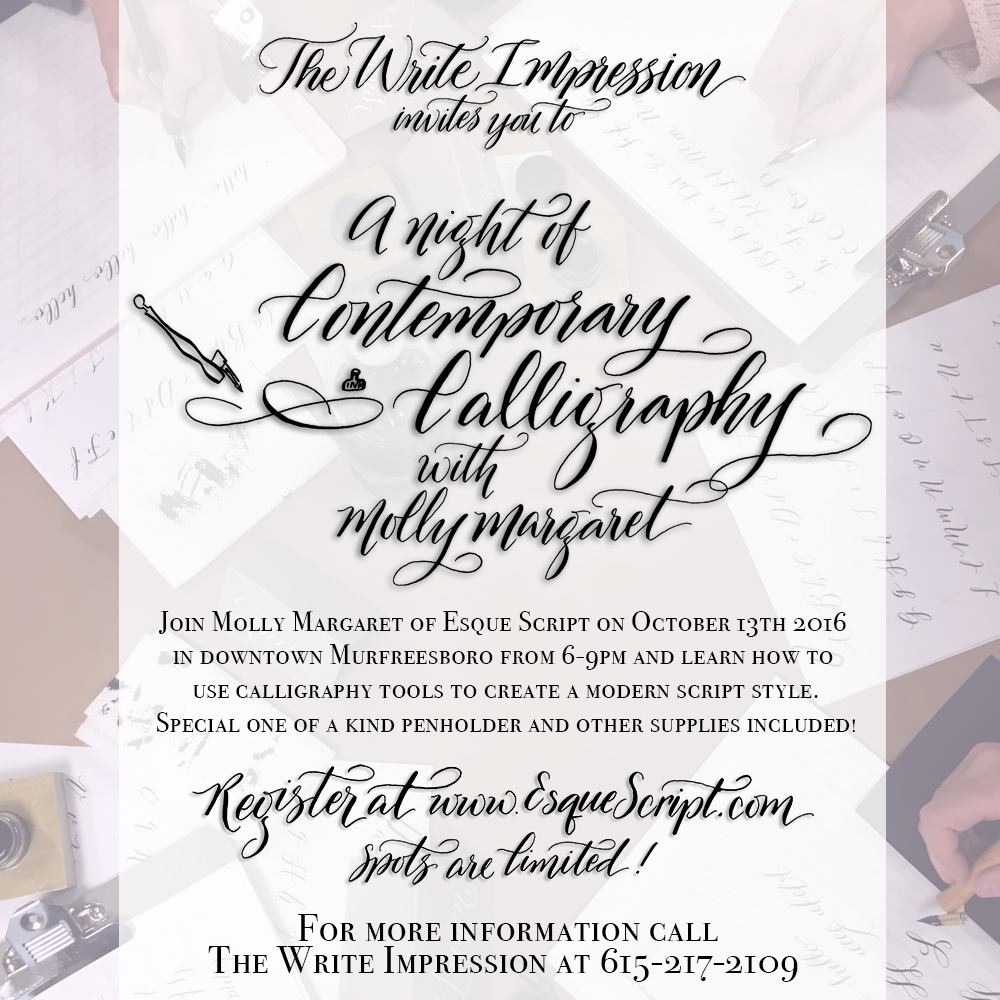 Whether you've taken a calligraphy class before or never picked up a pen and ink this class is designed to inspire you to get creative at all skill levels. This class will be held at The Write Impression in Murfreesboro, TN on Oct 13, 2016. It will be a night filled with fun and learning, no previous calligraphy experience is needed. My goal is to inspire you to use the concepts you learn in this class to add flare to your next party, holiday cards, crafting, gifting and more!
In this class we will be focusing on contemporary modern calligraphy styles. We will use dip pens, inks, papers and other supplies. Everything you need will be supplied for you and is included in the class fee. Space is limited. Secure your spot below!
When: October 13th, 2016 from 6-9pm. SOLD OUT
Where: The Write Impression, 120 S Maple St, Murfreesboro, TN 37130. Phone: (615) 217-2109
Supplies: Your supplies are included in the class fee and will be provided for you.
– One of a kind Ink Slinger Pens calligraphy oblique holder ($35 value!)
– Tasty treats and snacks
– Exclusive calligraphy practice guide pad
– Ink well and ink
– Calligraphy handouts with lots of samples and ideas!
Cost: $75
Register:
This class is sold out. For future class announcements join my mailing list! Thanks!!
__________________________
*** Class fees are not refundable. However, if you need to cancel your registration I will honor a one time class fee exchange if you give me notice 7 days prior to the class date. You will be able to use your class fee towards a future class. Please alert me if you would like to register for a class using a previous payment. Please note, you can switch class days one time. If you cancel twice I will not honor your previous payment. Thank you for understanding! ***
Molly Margaret is calligrapher who specializes in custom work via her online shop, Esque Script Calligraphy and sharing the art of calligraphy through teaching. When she's not out hunting down vintage postage stamps, she's holed up in her Nashville, Tennessee studio creating custom artwork, wedding invitations, envelope addressing, signage and more. Molly's favorite thing about calligraphy is finding creative new ways to add the personal touch of hand lettering to every special occasion.