Give the gift of creativity!
The holidays are here! If you're looking for the perfect gift for the creative in your life look no further! Give a calligraphy class.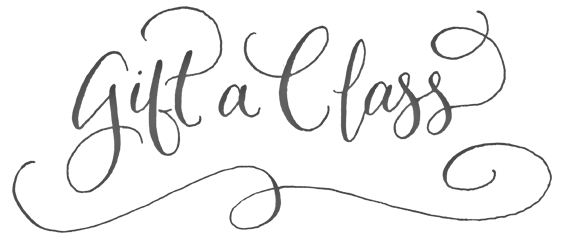 Gift certificates are available in full class ($65) or half class ($32.50) amounts. Be sure to select the correct one below.
I will be offering a variety of classes in 2016. The recipient of each gift certificate will have the option to select the class day and class topic that they like best! Classes are announced every month. They will be able to redeem their spot when registration opens for the class they choose by emailing molly@esquescript.com.
Fill out the form below to purchase. You will receive a personalized printable gift certificate from me within 1-2 days. Contact me if you have any questions at Molly@esquescript.com
Full Class Gift Certificate for $65:
** Recipient email is used only to confirm valid gift certificate at time of registering for class **
Half Class Gift Certificate for $32.50:
** Recipient email is used only to confirm valid gift certificate at time of registering for class **