I'm happy to announce I'll be teaching my Traditional and Modern Calligraphy Class twice in April. You can choose between: April 5, 2014 from 9am-1pm or April 6, 2014 from 9am-1pm. Please see below for more info about the class and registration….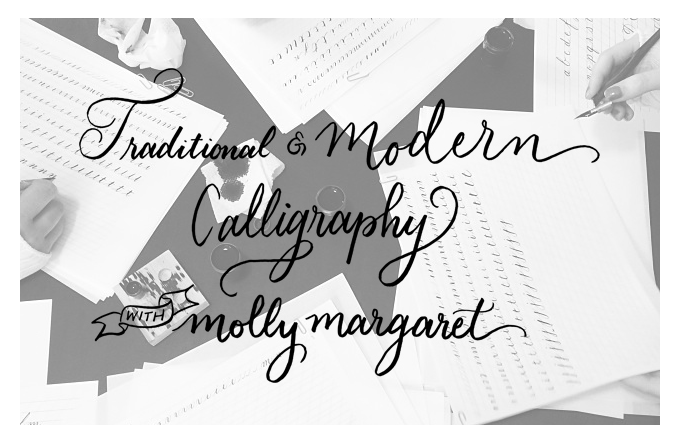 Traditional and Modern Calligraphy with Molly Margaret
In this class we will take a look at traditional calligraphy scripts and how to expand into more modern styles. You will walk away with knowledge on using the unique tools involved in dip pen calligraphy, traditional and modern lettering styles, paper and ink choices and more!
This class will be a one day workshop from 9am to 1pm.
Traditional:
We will explore how to use different nibs, pen holders, guidelines, ink and paper. The first part of class will be focused on traditional copperplate letterforms. It's important to understand the foundations when learning a new skill. This part will give you an understanding of the main concepts of calligraphy.
Modern:
In the second part we will look at how to expand your skills. We will dive into a more modern calligraphy styles, learn more about paper selection and go over any other questions!
My goal is to help you begin a journey in calligraphy. I'll take time with each student to provide you with techniques and tips to further your skills.
Supplies list:
Oblique Pen Holder ( I recommend getting a holder like the Oblique Peerless Holder, Hourglass Adjustable Oblique Holder or Century Oblique Holder. The Speedball holder will also work but it's less ideal.) ** Left handers- please bring a straight pen holder. It's easier to work with sometimes **
2 nibs of your choice. I recommend the following for beginners:
Zebra G or Nikko G
I will provide you with paper and ink.
Class Times:
I'll be teaching a one day class twice in April.
April 5, 2014, 9:00am-1:00pm (SOLD OUT)  or April 6, 2014, 9:00am-1:00pm (SOLD OUT).
Class Cost : $55
Class size: 4-14 students
Location: Paper & Ink Arts, 240 Great Circle Road, STE 328, Nashville, TN 37228